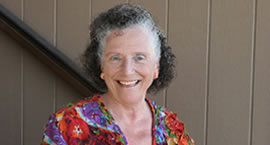 Susan Whyman is a historian, formerly of Princeton University, Princeton, New Jersey where she received both M.A. and Ph.D degrees in British History. Her B.A. is from Mount Holyoke College in South Hadley, Massachusetts and she earned an M.L.S. in Library and Information Science from Rutgers University, New Brunswick, New Jersey.

Whyman is interested in making history come alive by presenting the 'voices' of people in the past. She returned to the academic world after a career that encompassed the publishing, editing, and library/archive professions. These varied experiences inform and enhance all of her historical writing.

Whyman is the author of Sociability and Power: The Cultural Worlds of the Verneys; Walking the Streets of Eighteenth-Century London: John Gay's Trivia, co-edited with Clare Brant; and The Pen and the People: English Letter Writers. Oxford University Press has published all of her books.

Whyman is a fellow of the Royal Historical Society in London and has been a visiting scholar at Wadham College, Oxford and the Huntington Library, San Marino, California. She serves on the executive committee of the British Society for Eighteenth Century Studies. Whyman lectures and publishes widely, both in the England and the U.S. on letters and British culture.